What made you want to get started in music?

I've had a love for music for as long as I can remember and have always dreamed of being a singer. I had always looked at it as a dream until august of 2020. After a life changing experience I decided to make my dream a reality and started writing and recording music. Once I saw the process of creating my own song from start to finish I realized that music is all I want to do.
Who are some of your favorite artists who have inspired you?

I am the biggest fan of Tate Mcrae! First of all, I LOVE her music, and second, we have a lot in common so she is someone who really inspires me. We are only a year apart in age and also both started singing after being competitive dancers. She was fortunate enough to have the opportunity to perform at the VMA's at only 17 years old and I find that very inspiring. I also love music by Madison Beer, Ariana Grande, and Olivia Rodrigo.
What did you write "us again" about?

I had recently decided that I wanted to try recording music. A friend of mine, Mackenzie Sol (featured in the song "Us Again") invited me to LA to work with his producer and writer! I was so excited because I had never done anything like it before. First we recorded a more upbeat song, but we finished it so quickly that we decided to work on another. The song we created is called "Us Again" and it tells the story of a relationship that has ended. The girl believes that her ex has moved on and doesn't care to fix things with her. Throughout the song she wishes that what her ex has with the new girl could be with her (us again) instead. Mackenzie comes in later in the song to share that it's not true, and that he misses her just as much, and is finding it hard to be without her. I love the storyline and the way we were able to portray it in the song. I couldn't have had more fun creating my first single. It never would have happened without the help of Mackenzie Sol and Ray Goren.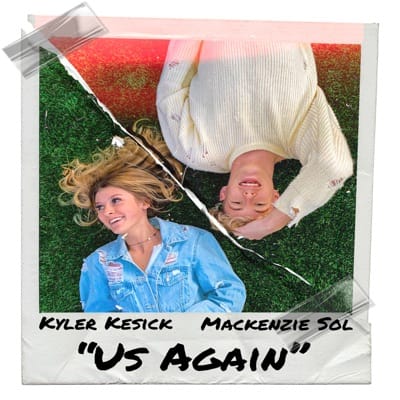 Are you working on any current projects that you're excited about?

I have so many new projects that i'm working on everyday. Writing new music, practicing choreography for my recorded songs, photoshoots, planning new video concepts, designing my own products, and so much more. My upcoming single release with a video "Dreamhouse" is coming out September 10th! I can't wait for you guys to see it. I am incredibly excited for everything i'm working on to be out for the world to enjoy!
Do you have any hobbies outside of music?

While most of my hobbies currently are music related – singing, learning acoustic and electric guitar, learning to play keyboard and writing new music. I also have many other hobbies that I enjoy outside of my music! One of my favorites is dance. I started dance classes when I was 2 and couldn't get enough of it. I trained in every style and competed with a team. Growing up I was excited to try every activity i could, but nothing excited me like dance. Being on stage and entertaining was my favorite part. Another hobby I love is hanging out with my friends and family. My family and I love going to the lake all together and jet skiing, boating, tubing, water skiing, wake surfing and wakeboarding.
Where can we follow you and keep up to date on your music?

You can follow me on any social media platform! My username is @kylerkesick on Instagram and Tiktok.
And I'm giving away my music for a limited time for free at www.MusicByKyler.com Go download it!