The Coton de Tulear Day is on November 26! It is a day to celebrate our beloved Coton dogs, with their pictures and happy memories. To remember all the Coton that are no longer with us physically, but always in our hearts. To share advices and ideas with other Coton de Tulear families, and to learn about the amazing love and responsibilities that come with becoming the forever family of a Coton de Tulear. https://www.cotondetulearday.com offers several ideas that you can use, to participate to the Coton de Tulear Day.
The Coton de Tulear, also known as the 'royal dog of Madagascar', it is a long-established breed that takes its name from Tulear, a port town on the island's southwest coast. It is said that in the 15th century several Bichon-type dogs from Tenerife survived a pirate shipwreck and swam to Tulear, where they interbred with local terriers, resulting in the Coton de Tulear. It became a very popular dog in the royal homes, so much so that a law was published that prohibited having this breed to anyone who did not belong to the nobility of Madagascar.
Bred for centuries as a companion dog, the Coton de Tulear are affectionate and faithful dogs that enjoys the company of people and does not like to be separated from their family. They are gentle, funny, playful and lively. Coton de Tulear dogs are a generally healthy breed, with no specific recognized problems. As it is a small breed, the Coton does not usually need too much exercise, half an hour a day is enough.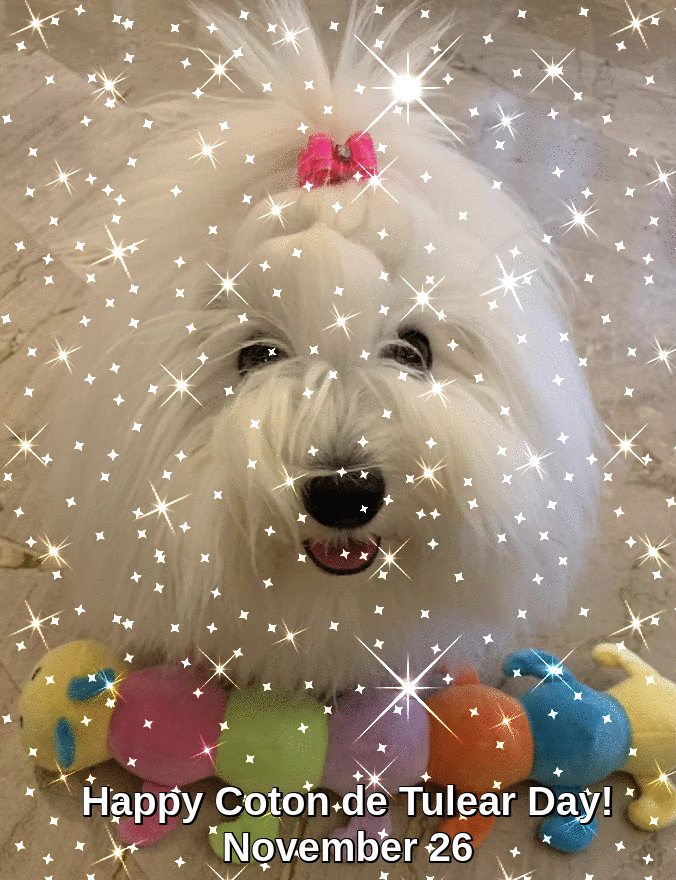 Coton dogs have a single-layered, cotton-like fur that measures between 8 and 9 cm. A daily hairstyle will prevent tangling. Its hair is often cut shorter, so that it needs less care, but if it is a dog for exhibitions it is left with its full coat. Dry their coat very well if it gets wet during your daily walks.
If you are considering to adopt a Coton de Tulear as part of your family, the Coton de Tulear Day is an opportunity to connect with people who are familiar with these adorable dogs, and can share both the amazing happiness and the important responsibilities they bring into your life. One thing is sure about the Coton de Tulear dogs: they will conquer your love, with their gentle playfulness and big hearts.
Tags: Coton de Tulear, Coton de Tulear Day, Coton Day, Coton de Tulear Dogs, Coton de Tulear Breed, Coton de Tulear Dog, Dog Day