Just Fame is today sharing an exclusive interview with MTV EMA Nominee and Multiple Billboard Top 10 Artist Oliver Sean. His new Crossover hit single Blues Dance (Worldbeat) just 2 days after breaking into the Top 5 of the Official iTunes US and iTunes UK World Charts simultaneously has hit #1 in both countries, once again at the same time, on the Official iTunes Easy Listening Charts! We got a chance to talk with him about his new hit, his life and much more!
Q. First of all, Happy New Year! It is wonderful to have you on our platform! And congratulations on Blues Dance (Worldbeat) hitting Top 5 on the American and British iTunes Charts simultaneously. How are you feeling right now?
Oliver Sean: Thank you so much 🙂 I'm feeling wonderful, especially since the song also went on to hit #1 No. 1 in America and the UK simultaneously on the iTunes Easy Listening Charts.
Q. We were amazed by your album Devil is Back. Please share how did you come across the idea for this album?
Oliver Sean: I was working on a contemporary blues album when the pandemic hit, and when lockdown was announced, the loneliness and not being able to perform for fans live, nor perform alongside other musicians started taking its toll. This is when I decided to bring in other musicians from around the world to collaborate with me 'online' for the album. I called this 'collective' of musicians the 'Real Indie Project' (also called R.I.P). We had Singers of different styles, guitar players, saxophone, trumpet and harmonica players etc, all adding their bit to my songs, along with my band the Oliver Sean Band. I like to believe the energy of the musicians on the album shone through and connected with the fans, which is why the album had so many #1's and Top 10's. I doubt anyone realised that the album was recorded with each musician adding his or her part in a different city or country, and each part recorded alone in each musician's own home studio. The Oliver Sean Band recorded several parts in my Garage all the big studios in England were closed. The album went to hit #8 on the Official Billboard Blues Album Charts and also a #1 on the iTunes blues charts in the UK and the US for 2 weeks. By the way, the garage recordings with my band also inspired my follow up album 'Garage Sessions, Vol. 1', which also made it into the Official Billboard Blues Album Charts a few months ago.
Q. What exactly is the process that you follow while making your music and especially the creative process that you followed while you were working on this album?
Oliver Sean: Composing and writing songs for me is a solitary thing, well I say solitary, but there are 2 guys who are always with me when I'm writing – Blue my German Shepherd and Ginger my Cat. The idea for a song can hit you anytime, and this is when the composition is being formed in my head. Riding my Motorbike always brings in song ideas and new compositions or sitting by the beach is another huge trigger for me to get into Songwriting mode. I will usually record the composition idea with my guitar. Writing the lyrics is more of a conscious effort as I try to put down in words what I have composed and what I'm feeling. I also try to write a song in a way that each listener can identify with the song with their own experiences, and connect with the track on various levels.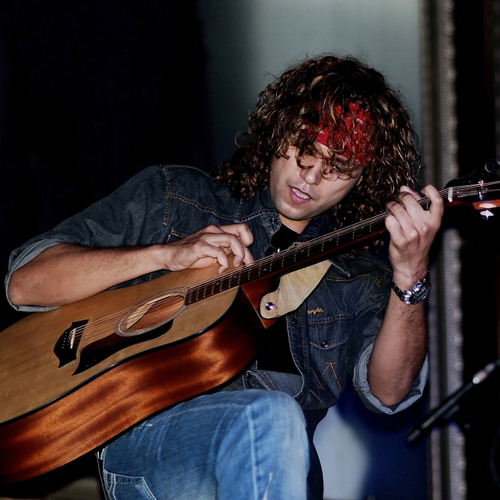 Q. Your music is quite distinct and has a unique aspect of "freshness + newness" ingrained in it. How do you achieve that marvellous sound?
Oliver Sean: Thank you again! I think one of the reasons my songs sound fresh is because I don't let any particular song or artist influence my song or compositions. My music is very personal, it comes from my heart, even the heavier rock or blues-rock songs, at the core of all my songs is an acoustic guitar and me telling the listener a story, sharing an experience that will hopefully connect with the listener and give them a smile for a moment.
Q. Personally, what is your source of inspiration and what inspires you to make such wonderful music?
Oliver Sean: Family, Love, Romance and Music itself inspires me. I suppose happy or memorable situations and experiences inspire me to write music.
Q. Any updates or hints about your upcoming shows that you would like to share with your fans and our readers?
Oliver Sean: I am gearing up for a tour across a few cities in the US (I might finally be doing some gigs in texas too) and a few countries in South America. I'm especially excited to perform in Argentina, which is a stopover since my MTV EMA nominated song 'So Good' recently hit the apple music streaming charts there. The Oliver Sean Band is also scheduled to tour the UK in the summer of 2022, which is something I can't wait to do. Hanging out with my band and doing gigs around the UK is the most fun experience for me every time.
Q. Let's talk about Blues Dance (Worldbeat). It is garnering mind-blowing reviews from music lovers and critics too! How special is that song for you?
Oliver Sean: Blues Dance Worldbeat is a Remixed version of the original song, which is called 'Blues Dance', from my Billboard Top 10 album 'Devil is Back'. The original song has that fusion of blues and world genres that I mentioned, however, I wanted to make that 'World' sound a little more prominent and at the same time give it a club feel to target a new demographic of fans. I also wanted to bring in my friend PM, who is a fantastic Hip Hop and Rap artist, on this song. PM had worked with me on my single 'New York' for the 'Devil in Blues Jeans' album, which went to #1 across several charts around the world, and the music video even hit the Vh1 hit list and won a few Film Festival awards (I direct all my music videos so that was a proud moment for me). So I wanted us to recreate that magic we experienced on the 'New York' song, by incorporating PM's Rap verse into Blues Dance (Worldbeat). I think the blend of genres has worked because we now have a Top 5 on the World Charts in the US and the UK, and not to forget the surprise #1 on the easy listening charts, in America and Britain (at the same time). The music video of the song was released recently and that has definitely brought more attention to the song.
Q. If you could have one thing people remember about you and your music, what would that be?
Oliver Sean: I want people to have a smile on their face when they remember or listen to my music. We are all in pursuit of happiness, and I want my music to be part of your journey finding it.
Q. What lies ahead for you and your band in the coming years? New single? World tour? An Album?
Oliver Sean: I am currently working on a Blues Rock album with world music elements. I am super excited for my fans to hear the songs I am writing for them. Every single that I have released with this fusion of genres has hit #1 on iTunes, and several of them have hit the Official Billboard Charts and the Official UK charts, songs like 'Doing That (Time Love Happiness)', 'I Like it', 'Blues Dance (Worldbeat)' and several others. I believe its about time I release a dedicated album with this style. Several tours across various cities and countries coming up too, as I mentioned earlier, so keep an eye on my Tour schedule on www.oliversean.com to see if I'll be coming to a city near you!
Q. Lastly, do you have any closing thoughts that you would like to share with the world and our readers?
Oliver Sean: I want fans and music listeners, in general, to know that without you there are no hits! You hold the power! Also, don't forget that commercial radio and major labels are one and the same – so every song you hear 25 times a day on these commercial radio stations is just so they can influence you. Don't let these "manufactured music factories" influence you – discover music for yourselves and experience that amazing feeling of finding the song that YOU want to keep on repeat. Let the music your heart loves be your next favourite song – not some manufactured song that your mind remembers, just because it's being force fed to you in the background 100 times a day. Support Independent Music – it's the real deal.
About the artist: Oliver Sean's stature as one of the premier independent singer songwriters to breakthrough into mainstream contemporary music is his artistic trump card, backed by an MTV EMA nomination, Billboard Top 10's, Official UK Top 50, Vh1 Top 10, iTunes No.1's, praise from critics and the esteem of his peers. But the full hand of his talents marks him as well as a gifted composer, dynamic live performer, guitar virtuoso, record producer and well on his way to create a rich and diverse musical legacy.
Follow the artist on his official social media for updates about future releases: