Excitement is building as the RVA Music Festival at the Dogwood Dell in Richmond, Virginia, is set to take place on September 16th. This date holds special significance for one of the performers, Don Killam, as it marks his birthday. Don Killam, also known by his hip-hop persona, is gearing up to release a new single at the event, adding to the already heightened anticipation surrounding the festival.
Don Killam has been making waves in the music industry with his unique style and captivating performances. His hit single, "#Barz," has garnered significant attention and has become a fan favorite. With his energetic stage presence and thought-provoking lyrics, Don Killam has quickly gained a loyal following. Fans can expect an electrifying performance as he takes the stage at the RVA Music Festival.
Joining Don Killam at the festival is the talented Luna Skyy, who is set to perform her smashing hit single, "Make Love." Luna Skyy's soulful voice and captivating melodies have captivated listeners worldwide. Her ability to infuse emotion into her music has made her one of the most promising artists in the industry. Luna Skyy's performance at the RVA Music Festival is sure to be a highlight of the event.
What has fueled even more excitement among music enthusiasts is the news of a collaboration between Don Killam and Luna Skyy. The duo has been spotted working on new songs together, and insiders claim that their collaboration is set to be the talk of 2024. While details about their joint project remain under wraps, fans are eagerly anticipating the release of this highly anticipated collaboration.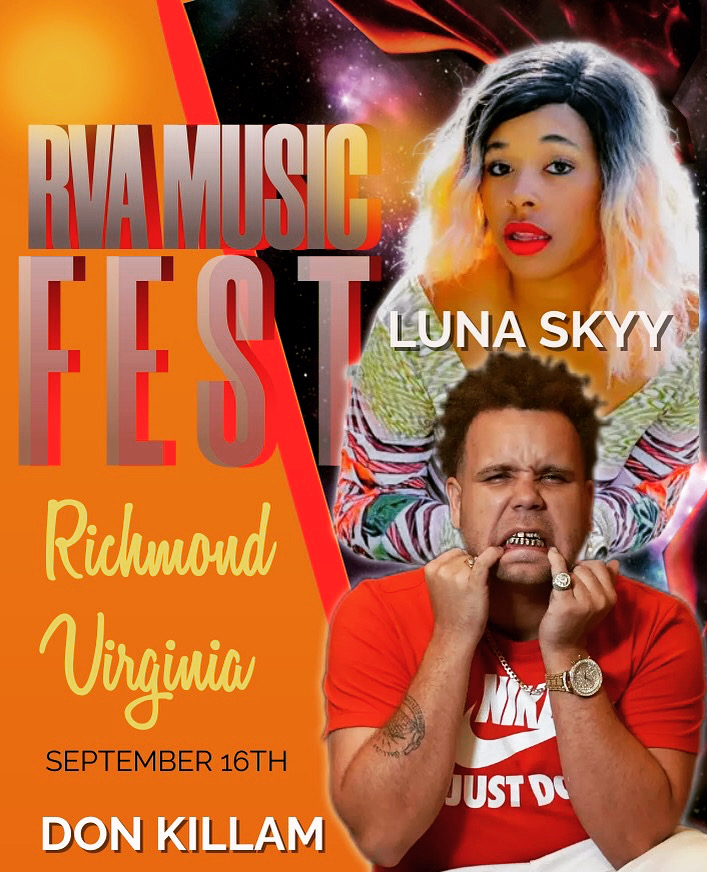 The RVA Music Festival at the Dogwood Dell promises to be an unforgettable event. With Don Killam set to release his new single and perform his hit track, and Luna Skyy captivating the audience with her mesmerizing vocals, attendees are in for a treat. The festival will showcase a diverse range of musical talent, creating an atmosphere of celebration and unity.
As the countdown to September 16th begins, fans of Don Killam and Luna Skyy eagerly await the opportunity to witness their electrifying performances. The RVA Music Festival at the Dogwood Dell is poised to be a milestone event, bringing together music lovers from all walks of life. With the anticipation surrounding Don Killam's new single and the prospect of a collaborative project with Luna Skyy, this festival is sure to leave an indelible mark on the music scene.
As the saying goes, only time will tell what the future holds for Don Killam and Luna Skyy. Until then, fans can mark their calendars and prepare for an unforgettable evening of music at the RVA Music Festival.
Stream their music here:
https://music.apple.com/us/album/barz-feat-fresco-kane/1701007288?i=1701007289
https://music.apple.com/us/album/make-love/1665262419?i=1665262420